*
128 million Francophones - Speak French
(as a native or adopted language) fluently and use it on a regular basis.
* 72 million "partiel" Francophones - Live in a francophone country but do not speak French regularly, due to limited knowledge.
* 100-110 million students of all ages - Do not live in a francophone country, but have learned/are learning French in order to communicate with Francophones.
In 1999, French was the 11th most common first language in the world, with 77 million first language speakers and another 51 million second language speakers
There are 33 French speaking-countries -
French is the or an official language in 33 countries, second only to English (spoken officially in 45). French and English are the only languages spoken as a native language on 5 continents and the only languages taught in every country in the world.
(more information on about.com"what is French")
A MAP OF FRANCE: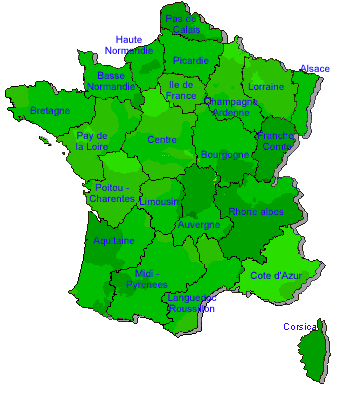 La marseillaise, the French national anthem: